Looking for an adventure this summer?  Cedarbrook Camp of Ohio needs you!
Dear Cedarbrook Staff,
It is with heavy hearts that we need to inform all of you that sadly, camp will not be taking place this summer. The board has met weekly waiting for something to be released by the state saying we can hold camp.  At this time, residential camps are not permitted to operate. We are so blessed by and proud of all of you who had already committed to coming to camp. We know that many of us wanted camp to happen, but it has become clear that the right and safe decision is to cancel our current sessions.
We felt that even if we were able to pull it off, the camp that we would produce wouldn't be our Cedarbrook Camp. This isn't the end though, we don't want our mission to stop just because camp isn't in session.  We encourage you to reach out to former campers if you have their mailing addresses. They will be missing camp just as much as you are and would love to hear from some of their favorite counselors. 
God saw this coming long before we did and it was His plan all along. It's not clear now why, but He will make good come from this, "And we know that for those who love God all things work together for good, for those who are called according to his purpose." Romans 8:28.  We love you all, please keep Stony Glen in your prayers as they continue through this pandemic.  Our summer theme was Christ Serving Individual.  In times like these we need to turn to Christ and follow Him.  Our summer theme verse was John 12:26, NIV: "Whoever serves me must follow me; and where I am, my servant also will be. My Father will honor the one who serves me."     Serve Christ and let His light shine through you while serving those around you daily as we do at camp. God bless.  
In Christ,  Falco, TB, Trich, Pt
It can be a hard job watching a handful of campers for a week, but it can be very rewarding as well. Come and share God's Word with young people this summer. Come and teach them in fun activities. Come sing fun songs and praise songs, play games, get dirty, get wet. Come and get some quality campfire time—and s'mores too, of course. Grow closer to God this summer.
Cedarbrook Camp of Ohio is always looking for:
Counselors

Qualified Horse Instructors

Nurses

Lifeguards

Craft and activity specialists

Cooks

Kitchen help

Grounds and maintenance crew

And other helpers and volunteers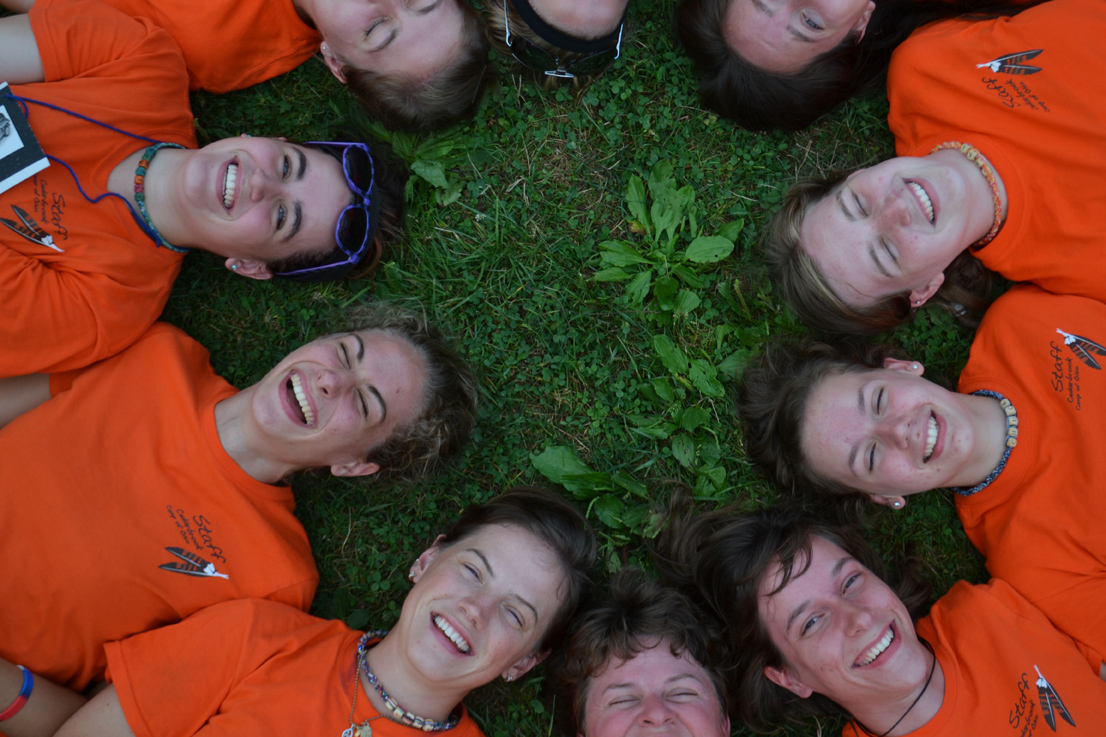 Youth leaders and education majors: Cedarbrook Camp of Ohio provides extensive training in areas of child development—understanding children's behavior, child abuse, behavior modification/discipline plans, conflict resolution, group dynamics, how to teach, risk management, health and safety training, and supervision of children. CCO is a great place to develop your skills.
College and post-college "kids" — we need your youth and energy!
Retirees and beyond, we need your experience. We could use some extra eyes watching our youngsters, some grandpa/grandma caring, some help putting that worm on a fishing hook.
Looking to Work at a Summer Camp?
If you're interested in joining the Cedarbrook Team and want to learn (and hear and see) more…
Check out our Staff Recruitment Video on our Video Gallery page!
Training
The staff at Cedarbrook Camp of Ohio get in-depth training in conflict management, how to correctly supervise campers, how to lead bible studies, and more. ACA guidelines of 48 hours of staff training are followed. Some training and preparation can be done beforehand (ie. online training), but most of our staff should be available for a half week of training directly before the first week of camp.
Staff Applications
Important: New Staff Applications can be accessed through this page. Returning Staff will now use the new UltraCamp application system (which will retain your information and forms and should make future applications much simpler. You'll need to create an account and then "Make a Reservation".)
Note: All Returning Staff need to have their own account with their own email address.

New Staff
Returning Staff
If new, prospective, or returning staff have any questions, please contact:
Stacey "Trich" Shannon
trichnc@gmail.com
Fingerprinting: The American Camp Association and the State of Ohio require all staff to have annual fingerprint and criminal background checks.
Hopefully we can provide up-to-date information on the requirements when we confirm your applications.
"Camp is something I look forward to as soon as I leave it. It is a safe atmosphere where I can be myself and grow closer to God. The friends I have made there have become closer than family and a huge peace comes when I pass under the Stony Glen sign on the way in. The work being done in everyone's lives there is amazing."
"My girls helped me grow closer to the Lord. I realized (anew) how much God loves me. I am amazed at His magnificence right now."
"Seeing the Lord working in the girls' lives was a wonderful experience."
Didn't find what you were looking for on our website?
Have more questions?
Don't hesitate to contact one of our camp enthusiasts.